Warning: Food porn ahead! :)
As you all can likely tell from my WIAW posts, my pre-contest diet is pretty low carb. That's how I prefer to diet; it gives me the best results and makes me feel the most satiated, sane, etc. (Fringe benefit? It makes my hair & skin look awesome. Is that a valid reason to like a diet??)
Last weekend, though, I had a refeed - a period of about 4 hours during which I consumed whatever carbs I had been craving. Here's what I picked =)
Lucky Charms with Blue Diamond Almond/Coconut milk - I love it!
Cinnamon raisin bagel with Laughing Cow cream cheese on one half
Pillsbury cinnamon rolls - these are the ones you find in the freezer/dairy section. My mom used to make these for me and my sister on Sunday mornings!
Brownie bite with frosting =D
And that is a rather unhealthy WIAW ;-) (Obviously not everything I ate that day! I ate all my normal food - see my most recent WIAW posts - plus these treats.)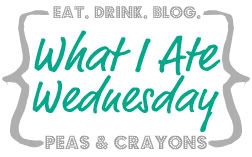 Happy Wednesday! =)