Here are more of my favorite portable high-protein meals =) These are perfect for bringing to work!

4 ounces of chicken, Morrocan spices, olive oil, broccoli, peppers and onions
2 ounces of egg whites, two whole eggs, Italian seasoning, broccoli and peppers and onions
4 ounces of tilapia, chili powder and paprika, avocado and veggies
2 ounces of egg whites and 2 whole eggs scrambled with spinach and peppers
This is my post workout meal these days! 2 ounces of beans, 4 ounces sweet potato, an apple, chicken, oil, and a ton of veggies!
Two hard-boiled eggs, 2 ounces of egg white cooked in the microwave to create an egg pillow, spinach and a little bit of tomato!
And while all of those meals did not come from the same day (they were basically my fave meal from each day for the past several days), this is my contribution to
....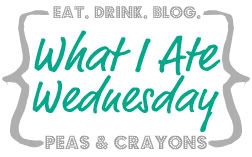 What's your favorite way to get your protein & veggies?