Hello! =)
Today is my first time actually participating in What I Ate Wednesday! Wooohoo =)
This is a recap of Tuesday because by the time I get home tonight I will probably be too tired to blog. But that's life! =) I'll have a workout-day recap (complete with a workout and eats) for you later this week.
Tuesdays are usually exhausting because they're billing days (which means an extra ninety minutes or so of work for me) and they're usually pretty busy. Mondays and Tuesdays are almost always the days that we get the most sick calls, and since our pediatrician sees all sick patients same-day (even if they call at 4:45 and we "close" at 5), they get pretty hectic.
Allergy season has been killer this year; we haven't gotten a break in the pollen count since the fall and at this point, even kids who have never had allergy symptoms before are getting hit hard. Plus, European tourists are beginning to come over for their summer vacations and since our doctors are from Eastern Europe, we get a lot of non-English-speaking walk-ins.
In other words, business is boomin', and I for one am really glad one of my rest days always falls on a Tuesday. :D
Rest day eats haven't changed at all, really, since I've added carbs back in on lifting days.
Lots of salads....
(I had three! One with Ranch dressing and two with Balsamic.)
Lots of egg whites....
Topped with white American cheese and sugar-free ketchup
Topped with Laughing Cow Cream Cheese - added cinnamon and nutmeg after the picture!
And eggs...
Topped with mozzarella!
And chicken...
Served will grilled bell peppers and sweet BBQ sauce!
And Fage, of course!
With cocoa powder and Splenda =) And that is....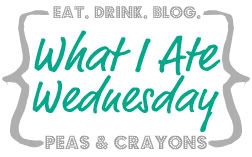 Well, Tuesday, anyway. ;-)
Some of you have noticed that I'm not using any protein powders anymore (other than half a scoop of BCAAs prior to lifting on workout days)
. I don't think there's anything wrong with using protein powder and I did so for quite a while, but I do think it's more cost-effective and beneficial to use real foods whenever possible. These rest day eats yielded me 140g of protein (a little more than 1g per lb), and that's on my lowest-calorie day of the week.
As always, this is just what works for me and of course I am in the midst of a cutting phase =)